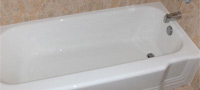 Valley View Service Partners, Inc in Scottsdale and Phoenix can refinish your bathtub and bring it back to life. Have you bought a home that has a terrible bathtub? We have seen homes with every color of bathtub you can imagine, from bright pink to dark green. Our line of products can turn your bathtub from an eyesore to eye candy. Whether you want to get rid of that color you just can't bear or your bathtub simply needs refinished we can make your bathtub look brand new again. Refinishing a bathtub can be much more cost effective than replacing your bathtub.
We first thoroughly clean the bathtub, removing all soap scum.
We then rinse and dry the bathtub.
Following this, we remove all caulk from around the bathtub.
Then cover and tape any surfaces where we do not want to apply coating.
Remove any debris left behind and apply acetone.
A specialized polymer will then get sprayed over the entire surface.
Once this is done we can begin to apply a glazing product.
Then we remove all tape and re-caulk the bathtub.

Most people in Phoenix don't even know that you are able to refinish a bathtub or know what bathtub refinishing is. Bathtub refinishing can save you from the costly expense of having to replace your entire bathtub. Valley View Service Partners, Inc applies in the special epoxy coating that can make your bathtub like new again. We can change the color of your bathtub or you can keep the same color you have but just have bathtub that appears to be practically brand-new.
Once we are finished it will look like a brand new bathtub. Valley View Service Partners, Inc uses all the proper procedures and techniques when applying quality products. Creating proper ventilation when we are doing bathtub refinishing is very important because of the chemicals that are used when refinishing your bathtub. Refinishing your bathtub is one of the best ways to give your bathroom a new look without spending a lot of money.
For more information and pricing, call us today at (480) 699-5835 or Send Us a Message.